Discover Scuba Diving in Phuket
If you always wanted to but haven't tried to understand what diving is and to see the underwater world and feel all the breathtaking emotions, and gain experience that will be memorable for the rest of your life – try a Discover Scuba program for beginners. Just for the day you will be able to immerse into the world of diving and do your first 2 dives in safe conditions. Diving will surely make your life more exciting!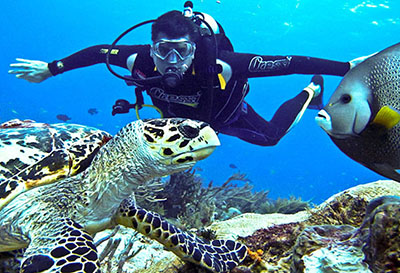 Discover Scuba Diving (DSD)
This is a perfect way to try out diving and see if you like it. An experienced instructor will give you a briefing, will explain you how to behave underwater and will show you some helpful exercises. Then, under his supervision, you'll do your first dive.
● Average depth – 6 meters (maximum 12)
● The duration of the dive – up to 50 minutes
● Minimum age for children – 10 years
● The knowledge you gain from supervised diving will be helpful if you decide to continue diving.
One day diving tour is a great way to do your first dive.
2 dives with day trip to Racha Yai Island – 4 100 THB
3 dives with day trip to Racha Noi & Yai Islands – 5 500 THB
Prices include equipment, insurance, lots of fun, breakfast, lunch, drinks, and hotel transfers from Patong, Karon or Kata beach.
Approximate Itinerary (2 dive trip)
7:45am Pick up from your hotel
8:30am Departure from Chalong Pier
10:00am First Dive Experience
11:30am Buffet Lunch on the Boat
1:00pm Second Dive
2:00pm Depart from Racha Yai Island
3:30pm Arrive Chalong Pier. Transfer to hotel
This is an approximate itinerary. On busy days you may arrive back a little later. 3 dive trips will return at about 5:30pm.
Note : To take part you must have no medical issues and you should be able to swim and be comfortable in the water.
Another Note : If you are taking a dive trip you must allow 18 hours before flying. Be sure to plan your flights accordingly!
We offer Discover Scuba Diving trips every day! Contact us for more information!
↑
To the top